February 2019 Newsletter
'Reducing energy consumption with cooler cables, 2019 heating trends with Aestus, Electrical apprentice contest heats up, £200m Liverpool scheme enabling works approved, Manchester building boom outstrips LA and Chicago'.
Quick Links
---
86% of Brits want more done to tackle energy theft, research finds
86% of respondents to a recent study think that energy companies should be working harder to tackle energy theft.
The study was commissioned by outsourced utility customer engagement specialists Echo Managed Services and Grosvenor Services Group, and endorsed by Crimestoppers UK.
The research surveyed 2,000 UK residents and found widespread public support for greater measures to be taken against meter cheating. Current statistics show that 150,000 cases are investigated annually, but only around 1,500 people are charged.
Among those who advocate further action, 43% said that energy companies have a social obligation to combat meter cheating, given that meter cheating leads to at least one injury or death every 10 days in the UK, due to electric shocks, fires, and gas explosions.
A further 43% of respondents stated it's because of the extra financial burden that energy theft places on their own bills. The practice currently amounts to £400 million in stolen gas and electricity every year, adding around £20 to every household's annual bill.
The survey also looked at media visibility of energy theft and found that only 14% recalled seeing any news coverage of the crime in the past 12 months. This may be part of the reason for low awareness levels across the board; 80% of people said they were unaware of the financial implications of energy theft, with 39% of those surveyed stating they weren't aware of the risks it causes to public safety.
Lloyd Birkhead, Managing Director of Grosvenor Services Group, said: "The overwhelming sentiment from UK billpayers is that energy companies should be doing more to tackle this problem and that it is their duty to do so. While there is an obligation under licence condition 12 to take action, investigation activity varies considerably across the sector, with only some suppliers meeting the Ofgem theft incentive target.
"Too often investigating energy theft is viewed more as an additional cost burden to a business rather than taking into account the long term benefits of avoiding future income losses and potential safety repercussions.
"More must also be done to increase the visibility of energy theft and make it a mainstream crime issue. This can be achieved through reactive reporting – for example, when convictions are secured – but also through proactive public campaigns. These need to drive home the financial harm and public safety risks of tampered meters, as well as raise further awareness of confidential reporting lines, such as the Crimestoppers Stay Energy Safe helpline."
Source: HVP Magazine
---
Reducing energy consumption with cooler cables
Poor cable management requires more conditioned air to prevent hot spots, higher utility bills and potential hazards. Here are some commons cable locations and best practices:
Through raised floors
Avoid bypass air escaping from cable openings and reduce the amount of air conditioning required. Seal all cable openings under racks and power equipment and move or replace all supply tiles in front of IT equipment with solid tiles to improve conditioned air's flow rate.
Under raised floors
Air dams created from cables obstructing air flow restricts cool air reaching equipment. Prevent cable trays from blocking air flow through supply tiles by placing them in hot aisles and positioning them as high as possible. This will allow air to flow underneath them. Try and place cable trays at the same height wherever possible so that conditioned air can flow in a straight path. Also, don't forget to remove any unused cables.
In racks
Increasing densities reduces air flow and exhaust. Use wider cabinets with cable management built into the side instead of directly behind the exhaust ports. Deeper cabinets will also give the air more room to escape vertically. Use blanking panels over any unused rack space so that air flows to the installed equipment.
Overhead cables
Overloaded underfloor cables can restrict airflow. Move cable distribution to overhead to increase airflow. Don't place cable management trays high above the cabinets, instead, position cable management trays within a few inches of the top of an IT cabinet. This will make exhaust air flow to the top of the room and over the top of cable trays, improving your overall airflow management in the room.
Proper airflow management comes from proper cable management. This is how you keep your IT equipment cooled and running efficiently and reliability, improving your power usage effectiveness.
Source: Electrical Trade Magazine
---
New consumer guide to hot water servicing
A new guide for consumers detailing what they can expect when having their hot water storage cylinder serviced by a registered engineer, has been produced by the Hot Water Association (HWA). Described as the first of its kind, the 'Homeowners guide to Unvented Hot Water Storage Cylinder Servicing' lays out an agreed industry best-practice approach to hot water cylinder servicing, while noting the important role played by manufacturer's' instructions. The guide also aims to educate consumers on the standards they should expect and details a list of the steps engineers should take when they visit a customer's home.
Isaac Occhipinti, Head of External Affairs, HWA comments: "Servicing is a topic that crops up almost on a daily basis. What constitutes a full service? What guidelines can I follow? These are regular conversations in the industry. As a result, the HWA, and its members have been considering what can be done to bring greater transparency, quality and consistency to servicing in the UK. Helping the professional, accredited and diligent registered engineer to cut through and raise awareness of the necessity and requirements of a proper hot water storage system service.
"As most cylinders have common component parts, a guide which outlines agreed industry standards, founded on technical competence, legislative compliance and consumer protection seemed sensible. It therefore focuses on compliance with legal requirements (e.g. AD Part G) and ensures essential appliance checks, tests and servicing tasks are correctly carried out, and in a safe manner.
"This consumer-facing guide supports the professional accredited engineer. We believe that by outlining what homeowners can expect from their service, it will assist with the message that 'the cheapest quote isn't always the best."
Engineers can download and share the guide via our website here
Source: PHAM News
---
Electrical apprentice contest heats up
Following the announcement last September of the 2019 NICEIC and ELECSA Electrical Apprentice of the Year Competition, the organisers have revealed that over 650 students have now entered.
The contest, which is taking place for the fourth year running, measures the technical skills of electrical students across the UK and enables them the opportunity to prove their knowledge and abilities.
Stage one of the contest closed at Christmas, and judges are now working their way through the entries to determine who goes through to the next phase. Stage one was an online, multiple choice quiz of 40 questions.
The second stage will see the top 20% of the contestants take part in a written, 90-minute exam that will be held at several locations across the UK and will be marked by industry experts Darren Staniforth, Jake Green and Tony Cable.
The top eight students will then take part in in the grand final on June 4th 2019 at the headquarters of the competition's partner, The Scolmore Group. The top three prize winners will receive holiday vouchers, whilst the eight finalists will each get an iPad and goody bags.
Every college that enters 20 or more students into the competition will qualify for a 'College Pack' from Scolmore, featuring 25 double sockets, 25 switches, 25 6″ pendants and 25 batten holders. The college that produces the eventual winner will also receive £1,000 worth of Scolmore products.
The employer of the winning apprentice will also receive a year's free registration with NICEIC and ELECSA, whilst the college that produces the eventual winner will also receive an additional £1,000 worth of Scolmore products.
Source: Electrical Contracting News
---
Firms named for £1bn East London framework
The company behind the £1bn regeneration of Barking town centre in East London has unveiled the full line-up of main contractors it plans to use.
The council's wholly owned urban regeneration company Be First will use seven firms to deliver over 40 projects.
Today Be First revealed that McLaren Construction, Willmott Dixon and Wates have secured places on lot 2 to deliver projects worth over £10m.
They complement the four other partners that were selected at the end of last year to deliver smaller projects up to £20m.
Be First framework partners
Projects over £10m value – total £750m
McLaren Construction
Willmott Dixon Construction
Wates Residential
Projects up to £20m value – total £250m
J.Murphy & Sons
Jerram Falkus Construction
Mulalley & Company
United Living (South)
As part of the Lot 2 tender process, McLaren Construction has secured the contract to build one of Be First's flagship projects, Crown House.
Under the plan, the existing Crown House tower block will be demolished and replaced with two new apartment blocks due to complete by April 2021.
Kevin Taylor, chairman at McLaren, said: "We look forward to working with Be First and the people of Barking and Dagenham to help bring to life the ambitions for the borough."
Together the Lot 1 and 2 projects are worth almost £1bn and cover Be First's development projects and related infrastructure schemes.
Iain Ferguson, commercial director at Be First, said: "We are happy to announce the winners of Lot 2 of our Development Framework.
"We have now completed the set. These three winners and the four companies selected in Lot 1 are now part of our drive to deliver thousands of affordable homes for local people."
Town centre regeneration plans have been drawn up by architect Weston Williamson + Partners.
These have the existing listed station building at its heart, with 2,200 new homes, together with new commercial and social infrastructure, all connected by over 2 hectares of new clean, green, accessible open spaces.
The masterplan includes significant over-track development – creating a series of urban quarters linked by a reinvigorated high street and capillary routes.
Source: Construction Enquirer 
---
Energy efficiency of homes in England stalling, new report finds
The energy efficiency of English homes has increased considerably in the last 20 years, but has not increased since 2015, according to the latest edition of the English Housing Survey for 2017-18.
In 2017, the average SAP rating of English dwellings was 62 points, up from 45 points in 1996. An increase was evident in all tenures but, according to the report, the increase appears to be slowing and there was no change in the average SAP rating of homes between 2016 and 2017 in any tenure.
The survey found that there are still a significant proportion of homes which do not meet the Decent Homes Standard, which requires homes to provide a 'reasonable degree of thermal comfort'.
In 2017, 13% of dwellings in the social rented sector failed to meet the Decent Homes Standard, which is lower than the proportion of private rented (25%) and owner occupied (19%) homes.
Over the last decade, the proportion of non-decent homes has declined from 35% of the stock in 2007 to 19% in 2017. This decrease was observed across all tenures, but has stalled in recent years.
OFTEC has raised its concerns about the lack of progress in home energy efficiency improvements since 2015, especially for rural homes.
Paul Rose, Chief Executive of OFTEC, said: "OFTEC has not seen the detailed figures that sit behind this headline, but we know that the average SAP rating for English rural homes in 2016-17 was significantly lower than the overall average – just 45 – equivalent to an EPC rating of E. In October, BEIS minister Claire Perry stated in reply to a Parliamentary question, that only 3% of homes that used oil heating in Great Britain were in EPC band A-C, while 97% (765,000) were rated D-G. We remain very concerned at the lack of progress in this area.
"Rural homes have continually missed out on government support to improve their energy efficiency, and they should now be high on the government's priority list. However, given that financial support for energy efficiency improvements has fallen steadily in recent years, it's now right that we question the government's commitment to this vital issue."
Source: HVP Magazine
---
Local Preston firm bags £19m Lancaster Uni business school
Preston-based John Turner Construction has secured the contract to deliver new business school facilities for Lancaster University Management School.
The local firm beat off competition from BAM – who were initially expected to deliver the project – Eric Wright and Graham to secure the £18.8m contract.
Main works are about to start after a formal groundbreaking ceremony and the five-storey building is due to be finished for the start of the 2020/21 academic year.
The new 60,000 sq ft building will offer cutting-edge facilities and significantly more space for students, staff and partners.
Offering the space equivalent to around four tennis courts per floor, the building will boast three new lecture theatres, collaboration space, a new reception, multiple offices and an executive teaching suite.
The Dean of Lancaster University Management School, Professor Angus Laing, said: "As one of the first business schools established in the UK, we have a proud history of pushing boundaries and conventions to challenge our students and prepare them to become our future leaders.
"This building marks the start of the next exciting phase of LUMS' development. The new building will be followed by an extensive refurbishment of our existing facilities to provide innovative study space and a unique all-round experience for our students, staff, business partners and visitors."
Nigel Sharp, operations director at John Turner Construction Group, said: "As a leading regional contractor, we are delighted to be awarded this high profile LUMS project and to be working with one of the highest ranking universities of the north."
The new building will be located next to the Management School and Gillow Avenue on Lancaster University's Bailrigg campus.
Source: Construction Enquirer
---
Smart radiator thermostat set to reduce household heating costs
Vestemi, the energy-saving technology company, recently announced the launch of its first product, Radbot – a money-saving, easy-to-use, smart radiator thermostat.
Radbot offers householders the ability to heat individual rooms only when needed whilst reducing the temperature in empty rooms, therefore saving energy and money. In fact, recent customer trials have demonstrated impressive average savings of 31 per cent – around £180 – on an average annual heating bill*.
Radbot is incredibly easy to self-install and is operated the same way as a standard, manual heating thermostat. It also doesn't require internet connectivity, complex programming or a smartphone app.
Through the use of artificial intelligence, Radbot monitors light and human activity by tracking how often householders use their rooms in order to establish their patterns of movement. By doing this, Radbot then understands when it needs to heat a radiator, ensuring the room is ready and warm for householders.
Not only that, but it is also highly intuitive. If a person uses a room outside of their usual routine, Radbot will understand that it needs to heat the radiator there and then. For extra speed, there is also a boost button that gives householders an extra 30 minutes of heating.
Jeremy Lock, CEO of Vestemi, said: "Energy is a luxury we simply cannot afford to waste. That's why we've brought Radbot to market. You wouldn't leave the lights on in a room you weren't using, so why the heating? It's a simple concept that has already delivered substantial savings during customer trials. But crucially, the design reflects our understanding that consumers want simple solutions they can fit and forget. This is the future of the smart home – the simple, smart home."
Radbot is now on sale through the EDF Energy website, and direct at the Radbot store, retailing at around £64.99 each or with a 25% discount for four, at around £195.
*Based on four to five devices being installed in a home with an average £1,200 dual-fuel annual heating bill.
About Radbot:
How does the product work?
If you have existing thermostats on your radiator (the hand-controlled dial with which you can set the temperature) then you simply unscrew them and replace it with the new product.
This new device takes minutes to install and needs no tools or special skills, in most households. Just put in batteries, install by hand and set the heating level. The device comes ready-to-go with two x AA batteries which should be replaced around every two years.
After installation, the device starts to monitor your heating needs and manage your radiator, looking to save you as much money as possible.
This is a next-generation smart radiator valve. It uses artificial intelligence to monitor your usage of the room in which it is installed.  When you are not using a room Radbot allows it to cool a little (typically by up to 3°C during the day so it won't get freezing cold) and starts to heat the room in time for it to be warm for when you return.
The device is very secure. It is independent; it doesn't need Wi-Fi or 4G and does not have a camera. The data it collects is continually overwritten. This means the data cannot alone be attributed, effectively, to an individual or family.
Regional applicability
Radbot is designed to be applied to 'wet' radiator systems which are prevalent in the UK and northern European countries. It is mainly of benefit to countries that see defined seasonal 'winter' periods where heating systems are on for sustained periods.
The intelligent software which is at the core of the design has applicability to other similar heating and cooling systems, this is a likely development path for further evolution of a product range.
Source: Plumbing Trade Magazine
---
Why all the fuss asks Metrel
"Users of Metrel's multifunction testers are having difficulty understanding the spat between some of the other manufacturers" commented Brendan Beaver, Sales Manager of Metrel, provider of innovative electrical test solutions, about the recent exchanges concerning the need for voltage drop measurement capability in the media, on social media, at exhibitions, within online forum sites, and in printed statements distributed amongst the wholesaler community.
"So what if the 18th Edition's amendment 1 does or does not require the ability to perform voltage drop measurement and power quality analysis. Metrel is alone among the high-quality test equipment manufacturers in supplying these functions as standard on its popular range of multifunction installation testers.
"When the regulations do change, be it Amendment 1 or Amendment 2, Metrel users will have been ready for some time. In fact, when the concept of voltage drop was introduced in the 17th Edition Amendment 3, Metrel engineers responded and introduced the function to their multifunction testers."
This modification showed the benefit of using modern display technology. Introducing the new tests was relatively easy with the dot matrix displays. It was a matter of changing the firmware and designing new screen layouts for the user interface. The use of a touch-screen display meant no restriction due to the use of rotary switches.
Our engineers are not limited by the old fashioned custom LCD displays and rotary switches, so they can respond rapidly to changes of regulation. Metrel customers are the winners as they can be assured that their testers are future-proofed.
Source: Electrical Times
---
'2019 Heating Trends' with Aestus
Aestus,a true manufacturer of quality handcrafted designer radiators and towel warmers in the UK, introduces its trend predictions for 2019. As 70s chic has hit the high streets, we are seeing the theme extend into the home, with velvet and fringed soft furnishings, floral patterns and funky shapes, awakening the UK's love for seventies fashion. Heating solutions are adding to this vibe with circular, wavy, curved designs and bold black accents, creating an 'Abstract Silhouette' and a focal point in the room.
Industrial themed interior design is stronger than ever and you too can now get this look in your home. For example, why not tap into this trend with Zeb, black steel, coil finned radiator that has an innovative design, adding an element of dramatics to a room. However, to achieve a more relaxing and inviting home interior, the Zebradiat or, when coupled with warm neutral tones of grey and beige can take pride of place in your home, creating a warm, comfortable environment that blurs out the stresses from everyday life.
Bathrooms are being inspired by boutique spa-like interiors, with bold dark colours such as black and anthracite, adding a touch of theatrical beauty to a room to create your own private oasis. Impressive metallics with tactile finishes and brushed or polished effects can add to the overall aesthetics of the space, whilst creating a sense of quality and luxury to your bathroom, or indeed anywhere in your home.
Kitchen interiors are going back to basics, in terms of colour schemes, with monochrome being the most prominent for providing a sense of contrast. In addition, continental influences are evoking a new wave of contemporary, modern designs across UK interiors. Sleek, linear and minimalistic heating solutions are being used as a bold statement piece, whether you opt for a unique wavy design, such as our aptly named Wave or an intriguing, etched motif with a background of neutral white, with our Expression design radiator. Whatever your choice of radiator, the end result will be a clean crisp space that remains timeless.
In the living areas, we are seeing the desire for a room with personality or perhaps one that can tell a story. If you want to add a personal touch to your living space, this can be achieved through extravagant bold heating designs that act as a piece of wall art, and our Copy glass or mirrored radiators provide this, even when not in use. Or perhaps, you want to add a more nostalgic feel to your room? This can be achieved with Versailles, sculptured radiators with embossed, floral patterns that awaken the feeling of serenity and calmness to create a peaceful sanctuary within your home.
Aestus the home of distinguished radiators…
For further information on Aestus Products & Services
Call 01902 387080, email info@aestus.co.uk or click here
Source: Plumbing Trade Magazine
---
Scolmore lighting a hit with Edinburgh Council 
Undertaking an upgrade programme of 22,350 social housing properties is no mean feat, and when it came to selecting new bulkhead lighting solutions for the residential buildings, Edinburgh Council needed to bear in mind the cost, performance and the time required to install the products.
There was the added concern of the new lower communal ceiling height that had resulted from the thermal insulation renovation, which meant the need to search for an alternative fitting was looking likely. However, EVO's unique ability to be recessed via removal of the mounting skirt meant it was an ideal solution, enabling the installation to go smoothly, with the fitting utilised in a greatly reduced vertical space.
Having looked at various products on the market, Scolmore's Inceptor EVO standard bulkhead was selected, because – according to the council's electrical and design teams – it provided an overall solution that competing products were unable to offer. The ability to remove the surface mount adaptor ring means that the fitting can be easily semi-recessed to overcome the problem of low ceilings and size of the fitting. Ease of installation, as well as cost and performance of the bulkheads, were also cited as crucial for the project and they are now being installed in all the kitchens and bathrooms in the properties being renovated.
The emergency and microwave sensor versions of the EVO bulkhead are, at the same time, being installed in the communal areas of the two, multi-storey dwellings that make up part of Edinburgh Council's social housing stock. These EVO bulkheads offer a three-hour emergency function in the event of a power failure and feature a microwave sensor with 8 second to minute adjustment. Their IP65 rating, robust housing and anti-tamper screws were also key features when the council's electrical team leader was selecting these products.
As part of the renovation programme, the council is also upgrading the switches and sockets and has opted for Scolmore's Mode range of electrical accessories to provide a cost-efficient replacement solution for all rooms and areas of the residential properties.  As well as offering value, Mode is a contemporary range that offers flexibility.
Edinburgh Council is aiming to complete between 1,500 and 2,000 property upgrades per year over the next ten years or so, and Scolmore is working in close partnership with the team to ensure the procurement and installation of the products is a smooth and efficient process.
Source: Electrical Contracting News 
---
Green light for landmark London office job
Plans for a landmark 13-storey office building in mid-west London near the new Crossrail Farringdon Station have been given the go-ahead.
Greycoat Real Estate is the development manager for the new Stonecutter Court project to build a major HQ building.
The project site lies close to the new Goldman Sachs building in an area of London that is booming because of its strong transport links.
The 350,000 sq ft schemes have been designed by T P Bennett and will involve demolition of 1 Stonecutter Street and 81 Farringdon Street.
The successful contractor will also carry out associated works to retain the Hoop and Grapes pub on the site.
Consultant Hoare Lea is on board as M&E consultant and Pell Frischmann is providing structural designs. The project manager is GVA.
According to planning documents demolition is expected to start in the second quarter of this year, with basement works and piling getting underway before the end of 2019.
The office building is expected to be completed by September 2022.
Source: Construction Enquirer
---
£200m Liverpool scheme enabling works approved 
A £4.2m plan to clear land for a £200m office scheme in Liverpool city centre has been given the thumbs up.
City Council planners have approved an application to remediate land at Pall Mall, in the city's commercial district.
This has been earmarked for a proposed 400,000 sq ft development project, led by Kier Property and CTP.
The remediation works will be carried out by contractor Willmott Dixon and are expected to take around eight months.
Enabling works will include a £1.25m scheme to relocate a substation on site, which will be fully operational by March 2020 to serve future development.
A planning application is expected to be submitted by Kier Property and CTP shortly which will outline a three-phase development.
The proposed Pall Mall scheme, to the rear of the old Exchange Station site, will feature three office buildings, a hotel, and around 80,200 sq ft of public space all, centred around a new green square for workers, residents and the local community to use.
Kier Property and CTP have appointed architect Allies & Morrison alongside landscape architects Re-Form to design the scheme.
Mayor of Liverpool, Joe Anderson, said: "The proposed Pall Mall scheme is of huge importance to the development of our Commercial District as we need Grade A office space to attract companies and highly skilled jobs to the city.
"I'm delighted we have the green light to begin clearing the site in readiness for the next stage of this scheme which if approved will deliver a much needed high-quality green square and new public realm for workers and residents to enjoy throughout the year."
Source: Construction Enquirer
---
Manchester building boom outstrips LA and Chicago
England's big three regional cities are shrugging off Brexit worries and enjoyed bumper construction growth last year driven by city centre residential and office schemes.
Manchester's construction boom is not only pushing the skyline to new heights but now outstrips construction project numbers in Los Angeles and Chicago, according to the latest Deloitte Crane Survey.
Simon Bedford, partner and regional head at Deloitte Real Estate, said: "If Manchester had featured in the recently published North American Crane Index, it would have ranked number two – behind Toronto but in front of Seattle, Los Angeles and Chicago.
"That might have seemed like a remarkable stat a few years ago given Manchester only had one crane in the sky in 2011, but today the figure is a massive 78 sites under construction."
Despite Brexit woes dampening activity in commercial and residential in London, Britain's biggest regional cities still boast a strong pipeline of projects for the next few years.
Birmingham and Leeds are beginning to accelerate with their own crop of inner-city schemes.
Project starts in 2018 by type
Resi
Offices
Student
Hotel
Retail/Leisure
Education
Other
Total
Manchester
22
10
3
5
1
2
1
44
Birmingham
13
2
4
1
1
2
0
23
Leeds
3
7
4
2
1
2
2
21
Minimum project size recorded: office or retail – above 10,000 sq ft; residential – 25 units; education, leisure and hotels – significant schemes.
Bedford added: "The marked increase in office construction levels is reflective of the continued draw to all these regional cities for major businesses. Investor confidence is thriving, as the rise in office pre-let deals clearly demonstrates.
"To have construction figures this healthy is somewhat of a surprise given a myriad of market uncertainties," he said.
"Developer confidence is a key indicator for economic health and to have this many significant construction starts over the last 12 months, especially in speculative office schemes, is a testament to the resilience of the regions and appetite for growth."
Looking ahead, Bedford said: "Despite record levels now, challenges may arise as we enter the 2020s.
"Each of our featured cities have ambitious plans which, if they are to emerge, will need to be supported by investment in essential infrastructure which is currently struggling to keep up with the pace of real estate development. The next decade may well be all about transport and smarter city solutions."
Manchester
The residential sector is driving the record levels of development activity. A total of 14,480 residential units are under construction – double that of two years ago.
Last year, 2,569 units were delivered to market – the highest level in 12 years and Manchester's development pipeline suggests 2020 as delivering the most homes in nearly 20 years.
Manchester's office sector has over two million sq ft of office space under construction across 13 schemes; a remarkable increase on the consistent levels of 1.5 million sq ft reported between 2015 and 2017.
North West occupiers have been busy as a quarter of office developments in 2018 were pre-let.
Birmingham
The West Midlands city saw 23 new starts, with residential taking the lions share. Thirteen new schemes started, bringing the development pipeline to over 5,000 units under construction.
Last year also saw the delivery of the most residential units to the city centre, the highest since the Birmingham crane surveys started in 2002.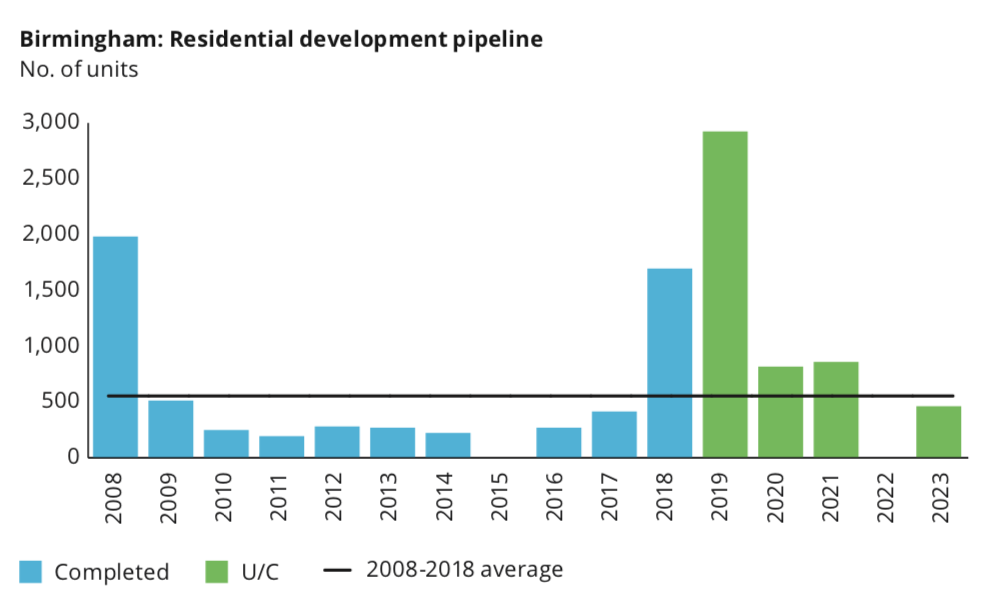 New office development is down from a peak of seven new starts in 2016, to just two new schemes today.
But the total office volume under construction remains high at 1.4 million sq ft and 2019 is set to be a record-breaking year for office completions.
Leeds
Leeds has recorded the highest level of construction in the city centre since the Leeds crane survey began in 2002, with 21 new construction starts in 2018.
This includes seven new office schemes adding to the record 844,986 sq ft office development pipeline.
Residential development continued an upward trajectory with three new starts, set to deliver a further 533 units to the city, bringing the total to 2,119 units currently under construction.
Five of the developments under construction are 'build-to-rent', which will be the city's first purpose-built private rental homes.
Source: Construction Enquirer 
---
http://hotcost.co.uk/wp-content/uploads/2019/02/February-2019-Newsletter-Main-Image.jpg
372
850
Dean Kennedy
http://hotcost.co.uk/wp-content/uploads/2017/05/Logo-Website-8-Black.png
Dean Kennedy
2019-02-06 10:51:57
2019-02-18 13:05:17
February Newsletter 2019